Bubbles' World – Otrantosub
In un angolo tra i più belli del Mediterraneo, il più ad Est di Italia , denominata "Porta d'Oriente", ha sede il centro diving Bubbles' World – Otrantosub, realizzato sul mare, nella baia di Otranto, aperto tutto l'anno.
Otranto è la sede del Diving Ricreativo, e presso la stessa struttura vi è la base operativa e uffici del Comercial Diving, il ramo dell'azienda che si occupa di Lavori Subacquei e Marittimi e servizi portuali.
Il centro immersioni è sul mare, immediatamente sopra la spiaggia della Madonna dell' Alto Mare, da dove si ammira l'incantevole panorama di tutta la baia, del centro storico, del porto turistico del lungomare, del Castello Aragonese, dei bastioni Pelasgi e dell'imponente Cattedrale.
Responsabile del coordinamento tecnico e delle attività subacquee è l'Instructor Trainer IAMAS OTS Giampiero Buttiglione, nato e residente da sempre a Otranto, conoscitore dei fondali ed appassionato e amante del mare e della subacquea, tanto da aver fatto della propria passione il proprio lavoro e realizzato un meraviglioso e attrezzatissimo diving center nel luogo dove è nato, per far conoscere agli appassionati come lui, le bellezze del proprio mare e della propria Terra.
Tutto lo Staff Tecnico del diving sia ricreativo che commerciale è composto da esperti professionisti subacquei, garanzia di massima professionalità, cortesia e qualità ineguagliabile dei servizi.
Per le attività commerciali Bubbles' World s.a.s. si avvale anche della collaborazione di Tecnici e professionisti esterni.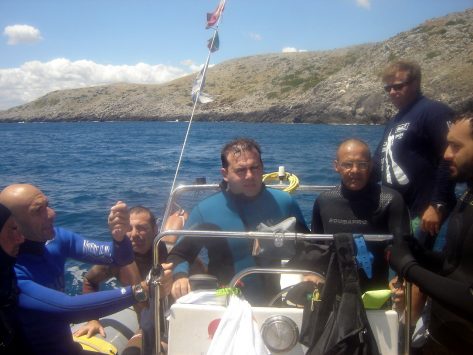 Giampiero Buttiglione
Amministratore Bubbles' World ® s.a.s. Otrantosub ®
Scheda personale attività subacquee
Giampiero Buttiglione 13/09/1967
Amministratore Bubbles' World ®
s.a.s Otrantosub®
Iscrizione RUOLO DEI PERITI ED ESPERTI Lecce n.189 Cat. XXI Attività marittime, aeree e di navigazione interna – sub. Cat: 11 e 1311. Attrezzature ed equipaggiamenti subacquei, sommozzatori ed attività di lavoro connesse13. Perizie e lavori subacquei
– OTS Operatore Tecnico Subacqueo – Regione Toscana 20070511
– Sommozzatore in servizio locale n. 001 – D.M. 13.01.1979 – Ufficio Circondariale Marittimo Otranto
– Tecnico Professionale delle Attività Subacquee : Università degli Studi G.d'Annunzio Chieti e Pescara – Facoltà Medicina e Chirurgia
Tesi "NITROX potenziale adiuvante nella riduzione di cofattori relativi al rischio tecnico e umano nel lavoro subacqueo in basso fondale"
– Instructor Trainer NASE Europe – WASI
– CPR_FA Instructor NASE
National Association of Scuba Educators – World Association of Scuba Instructors
– Instructor NASETEK
– Master Instructor PADI
Professional Association of Diving Instructor
– Istruttore EFR BLSD CFC PBLSD
Emergency First Response Instructor –Basic Life Support and Defibrillation
– Instructor MFA
Medic Firs Aid
– Istruttore II grado ANIS – CMAS
Associazione Nazionale Istruttori Subacquei – Confédération Mondiale des Activités
Subaquatiques
– Istruttore BLSD ANIS
– Oxigen First Aid Instructor DAN – BLS Instructor
Divers Alert Network
– Instructor Tec Rec DSAT – Gas Blender Instructor TRIMIX
Diving Science and Technology
– Instructor HSA -NADD
Handicapped Scuba Association – Network Aqua Diving Development
Premio Sirena 2007
– Istruttore I.A.MA.S. S.N.S.
Istruttore nelle Arti Marinaresche per il Salvataggio – Società Nazionale di Salvamento – Genova
– Istruttore I.R.C. – Comunità BLSD
Italian Rescitation Council
– Instructor AWARE – Aquatic World Awareness Responsibility and Education
– Trainer e Instructor Specialty:
Deep Diver– Wreck – Cavern – Search & Recovery – Night Diver – Full-Face Mask – Advanced Enriched Air NITROX – Videoripresa Subacquea – Fotografia Subacquea Digitale – Air decompression -39 – TEK Decompression -50 – Oxigen Close Circuit Rebreather ARO – Archeology Diver – DPV diver propulsion vehicle – Navigazione subacquea – Equipment Specialist – Naturalist Diver – Dry Suit –
-AI FIPSAS – CONI
Federazione Italiana Pesca Sportiva e Attività Subacquee – Comitato Olimpico Nazionale Italiano
– Atleta Attività Subacquee FIPSAS
– Stage Teorico Pratico d'Immersione Sotto i Ghiacci e in Alta Quota ANIS
– Brevetto APNEA PSS RSTC – Gianluca Genoni record mondiale
-Sicurezza nei Luoghi di Lavoro Comparto Pesca
– R.L.S. – Responsabile di Lavoratori per la Sicurezza
– R.S.P.P. Responsabile del Servizio di Prevenzione Professionale
-Addetto Antincendio e Pronto Soccorso
– Corso Teorico-Pratico di Rianimazione Cardio – Polmonare – Celebrale di Base e Defibrillazione Precoce nell'adulto – BLSD – LG ERC – Centro Formazione Emergenza "G.d'Annunzio" – Chieti
– Patente Nautica Senza Limiti – Vela-Motore 1996
– Comandante M/B NN.MM.eGG. Big Bubble 6GL215
– Certificato RTL per Navi
– Licenza Esercizio Impianto Radioelettrico – Ministero delle Comunicazioni
– Attestato professionale Bagnino di Salvataggio SNS
– CAP Certificato Abilitazione Professionale – M.C.T.C. Lecce
– Corso Meteorologia Generale e Marittima – Luigi Merico Meteorologo European Geopysical Society
– Gas Blender PTA – Pure Tek Agency
– Tecniche di miscelazione – Aerotecnica COLTRI
– Primo intervento e manutenzione Compressori COLTRI – Aerotecnica COLTRI
– Corso Tecnico Basic MARES – MARES
– Basic Cours of training in the technical function, maintenance and repair of Scubapro Regulator, Valves and all mechanical products – SCUBAPRO
foto e video Diving Ricreativo
foto e video Commercial Diving